Snug in the Georgia Strait, between the mainland and the eastern side of Vancouver Island, are the Gulf Islands. Each of these islands is a world unto itself, each with its own history, culture and colourful characters. Travelling between the Southern and Northern Gulf Islands can be accomplished in small hops – each island deserves at least a day or two for exploring.
For inter-island travel to the Southern Gulf Islands of Pender, Mayne, Saturna, Galiano and Saltspring Island, foot passengers can take a day trip to a number of islands or take a car and spend a few days touring all five islands.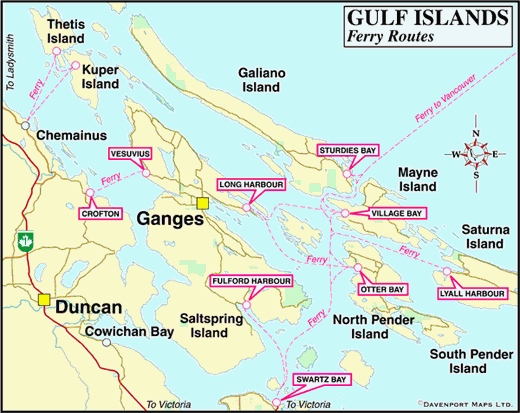 These Gulf Islands can be reached by ferry from Swartz Bay Ferry Terminal, thirty minutes north of Victoria and five minutes from the picturesque seaside town of Sidney.
Pender Islands
Board at Swartz Bay for the forty-minute ferry ride to Otter Bay on North Pender Island. A perfect place to begin your exploration of the Gulf Islands, the Pender Islands are known as the "Friendly Islands" and the "Islands of Hidden Coves." Pristine wilderness makes the Penders perfect for family holidays, romantic retreats, golfing, hiking, biking and nature watching.
Mayne Island
For the next leg of your island hop take the twenty-minute ferry ride from Otter Bay to Village Bay on Mayne Island. Beaches abound – sample the sand at Bennet Bay, Campbell Bay, Dinner Bay, Horton Bay, Piggot Bay and Village Bay!
Saturna Island
From Mayne Island, a thirty five-minute ferry ride will land you on Saturna Island – a rural hideaway. Saturna's charm lies in its natural beauty, tranquillity and isolation.
Galiano Island
From Saturna, head for Sturdies Bay on Galiano Island, which requires a ferry change at Mayne Island. Go walking, mountain biking, hiking or horseback riding – there are several beautiful parks and miles of old logging trails and country lanes.
Saltspring Island
The ferry ride from Galiano to Long Harbour on Saltspring Island takes two hours and goes via Mayne and Pender Islands. Around each corner on Salt Spring is an artisan's gallery, a row of unique little shops or a quaint café in Ganges. You can also indulge in camping, hiking, fishing and boating, all in beautiful surroundings and a friendly, relaxing atmosphere – truly what holiday memories are made of! Each island is home to a talent-rich community of artists and crafts people who often provide open studio visits where pottery, jewellery, woodwork and paintings can be viewed or purchased.
After touring the breathtaking Islands, return to Swartz Bay from Fulford Harbour, or take the ferry from Vesuvius Bay to Crofton on Vancouver Island. Once back on the island, head straight to the film-processing lab, or upload your images to Facebook to share the beauty of the Gulf Islands!
Thetis Island and Penelakut Island (Kuper Island)
Your next stop should be Chemainus, often called "The Little Town That Did," Chemainus is now world famous for the series of over 40 murals depicting the area's history that can be found on buildings and walls throughout the town. From downtown Chemainus, catch a small car and passenger ferry to nearby Thetis Island and Penelakut Island, home of the Penelakut First Nation. Go hiking, fishing, swimming, cruising or kayaking.
Gabriola Island
From Chemainus head for Nanaimo. From here a twenty-minute ferry ride takes you to Gabriola Island, where forested parks, quiet beaches, sensational ocean views and amazing sandstone formations await you.
Lasqueti Island
From the Government Wharf at French Creek, between Parksville and Qualicum Beach, catcha private ferry to Lasqueit Island, a quaint and eccentric little community of self-reliant homesteaders who enjoy the island's mild climate and relative isolation. One of the charms of Lasqueti Island is being presented with a kerosene lamp or a candle at nightfall, as generators are turned off at night. Pretty romantic!
For travel to the Northern Gulf Islands (Denman, Hornby, Texada) and the Discovery Islands (Quadra, Cortes), and Cormorant Island and Malcolm Island off the northern tip of Vancouver Island, foot passengers can take a day trip to a number of islands or take a car and spend a few days touring each island. Visitors will find that the further north in the Strait of Georgia they explore, the fewer fellow travellers they'll encounter. The wonderful silence that envelops these islands is characteristic of the ambience in remote central coast locales. Explore by car, kayak, mountain bike, or on foot. Find a location that appeals to you, and within this microcosm, experience the wonder and magic that pervades life here.
Denman Island and Hornby IslandTranquil and bucolic, Denman Island and Hornby Island sit just off the east coast of Vancouver Island. Denman, the larger of the two, is known for its pastoral farmlands and its population of talented artisans. Ferries depart regularly from the Buckley Bay terminal, just south of Courtenay, for the ten-minute trip to Denman Island. Stroll down a country lane, bask in the unspoiled countryside of woods and wildflowers or explore hidden coves along the sunny coastline. From Denman, cross to nearby Hornby Island, with its gorgeous white sandy beaches – go hiking, kayaking, cycling or scuba diving.
Sunshine Coast and Vancouver Island Circle Tour
See it all when you embark upon on this circle tour. Board at Comox and cross the waters of the Strait of Georgia to Powell River on the BC Sunshine Coast.
Texada Island
From Powell River, cross to Texada Island. For visitors, there's hiking, cycling, beachcombing, camping, kayaking and scuba diving – as well as exceptional wildlife viewing opportunities.
Quadra Island
Quadra Island is a ten-minute ferry ride across Discovery Passage from Campbell River. Quadra Island is the largest of the Discovery Islands group, and exploring offshore waters in a sea kayak is the best way to discover the Islands. The waters around Quadra have yielded some of the largest salmon ever caught on BC's west coast.
Cortes Island
From Gravelly Bay on Quadra Island, a forty-five minute ferry ride will land you at Shingle spit on Cortes Island. Cortes has its own distinctive charm… island isolation, sandy beaches, beautiful coves and bays, as well as a variety of things to do.
Cormorant Island and Malcolm Island
From Port McNeill, take the forty-five minute BC Ferries trip to the bustling little village of Alert Bay on Cormorant Island. The U'mista Cultural Centre should top your list in Alert Bay. Beautiful and well-preserved examples of Coast Salish culture are on display – a few hours here will take you far back in time. From Alert Bay, take the thirty-five minute ferry ride to the quiet little fishing village of Sointula on Malcolm Island.
Take your time as you meander through the Northern Gulf Islands. Its rhythms are subtle, but with gentle probing they reveal themselves, showing greater complexity than first meets the eye. And on eternal summer evenings, when a magenta sunset ignites the ocean's serene surface, there's a peace so prevalent that you could almost bottle it and call it salvation. Take your pick of moods; they're both soul-satisfying.
Circle Tours in British Columbia
If you travel to the very northern tip of Vancouver Island, there are wonderful circle tours you can explore, commencing with a BC Ferry trip out of Port Hardy: