See it all when you embark upon a coastal circle tour of Vancouver Island and the Sunshine Coast of British Columbia. The Sunshine Coast lives up to its name. With a total average of between 1,400 and 2,400 hours of sunshine per annum – that's an average of 4 to 6 hours per day, depending on where the measurements are taken.
The Sunshine Coast is split into two portions on either side of Jervis Inlet. The coastline is deeply indented by the Pacific Ocean at Howe Sound, Jervis Inlet and Desolation Sound.
Jervis and Desolation are of such fjordic proportions that they attract a steady stream of marine traffic throughout the summer months, when brilliant sun shines on the countless cataracts that cascade down the sheer-sided slopes.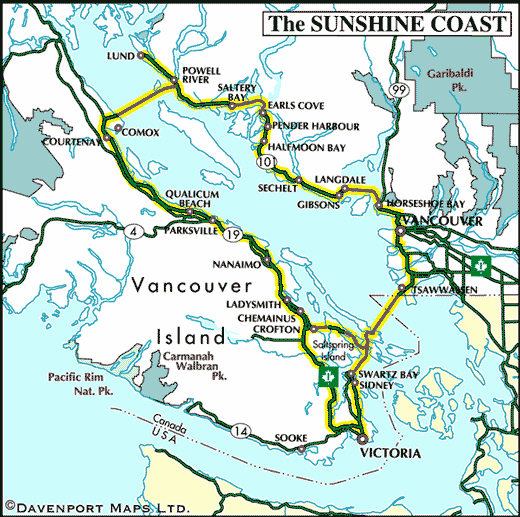 The Sunshine Coast is accessible from the Lower mainland only by boat or plane. Travellers board a BC Ferry at Horseshoe Bay, north of Vancouver, for the 45-minute ride to Langdale on the Sechelt Peninsula.
Dozens of parks with biking, hiking and ski trails; canoe and kayak routes; beaches; and coastal viewpoints are easily accessed from Highway 101 as you follow it northwards.
Another ferry from Earls Cove crosses Jervis Inlet to Saltery Bay for the second leg of the journey up Highway 101 to Powell River, where you can board a ferry at Powell River that will take you across the waters of the Strait of Georgia to Comox, on Vancouver Island. A scenic highway flanks the east coast of the island, taking you through charming beachside communities, farmlands and mountainous ranges.
The Vancouver Island communities of Parksville, Nanoose Bay and Qualicum Beach are charming seaside playgrounds offering every kind of recreation option at a very relaxed pace. Fancy a game of golf on an award-winning fairway? Sea kayaking, salmon or flyfishing? Or just a quiet walk through some of the most spectacular scenery in the world. There is nothing like staring up at the snow-capped peaks of Mt. Arrowsmith, while ankle deep in the warm water of Rathtrevor Beach Provincial Park at Parksville.
Driving south to Nanaimo you may board another ferry and cross Howe Sound back to Horseshoe Bay on the mainland, having completed one 'circle tour'. If you still want more of Vancouver Island, you can continue south to Victoria, the capital of British Columbia at the southern tip of the Island.
Organized tours of the city are conducted in conveyances of all kinds, from double-decker buses to bicycles, mopeds and horse-drawn carriages.
From Victoria, you can drive out to the scenic Saanich Peninsula, past lakes and cottages and the picturesque town of Sidney, to the Swartz Bay Ferry Terminal. From here you can return to the mainland at Tsawwassen, or board a smaller vessel for an Island Hopping adventure to one of the Southern Gulf Islands. This scenery surpasses any in the world for its raw beauty and unspoiled vistas. Keep a look out for Orca whale pods and happy groups of Dall's porpoises that look much like miniature Killer Whales.
Start your Circle Tour on Vancouver Island or the Sunshine Coast, or in Vancouver, as you can circle in either direction utilizing all four ferry routes: Horseshoe Bay – Langdale, Earls Cove – Saltery Bay, Powell River – Comox, and Vancouver Island – Mainland (your choice of Nanaimo – Horseshoe Bay, Nanaimo – Tsawwassen, or Swartz Bay – Tsawwassen).
The BC Ferries Experience™ Card can be loaded with money and used to pay for ferry travel on participating routes. As a cardholder, travellers have access to savings on passenger fares OR standard vehicle (up to 20 feet) and passenger fares on participating routes simply by registering the card and loading it with the minimum Stored Value amounts.
Approximate Distance: 225 miles (360 Km)
Approximate Duration: 3 to 5 days
BC Mainland Towns on or near this Route (Links open in a new window)
Vancouver Island Towns on or near this Route