Parts of Washington resemble every other US state, dozens of countries and even several planets. Pacific tides and Olympic Peninsula forest collide to mimic coastal Maine. Mineral-coloured canyon walls rise from the Columbia and Snake Rivers like the treasures of Arizona. Its glacier-capped volcanic peaks, plush rain forests and playful Orca pods impersonate Alaska. In fact, the cascade mining town of Roslyn actually fooled millions of Northern Exposure TV viewers into believing they were in Cicely, Alaska.
Hikers who have trekked Europe's famed Alps and Washington's Cascades have claimed the primary difference is the language spoken on the trails. Skagit Valley tulip fields, rolling blankets of exploding colour, remind many of a country known for windmills and wooden shoes. And visitors to post-explosion Mount Saint Helens and Hells Canyon have described them with adjectives usually reserved for Venus, Mars and Jupiter.
Many of Washington's wonders defy comparison, however. Natives learned that many centuries ago, explorers Lewis and Clark reported it after reaching the Pacific in 1803, and visitors today reiterate the theme: So much of Washington is distinctly Washington. Divers at 100 feet below sea level rave about the marine life in nutrient-rich Puget Sound. Climbers on Mount Ranier revel in stunning views stretching from Oregon to Canada. In between Washington's top and bottom are myriad ways to enjoy the bounty of America's 42nd state.
Nature indeed has applied some of its finest blueprints here, but man has created impressive work, too. The 550-foot high, mile-long concrete face of Grand Coulee Dam creates 600 miles of Lake Roosevelt shoreline, and also provides a screen for a laser light show every summer night. The sleek Space Needle, icon and magnet of Seattle Centre, launches visitors 52 stories above town in 43 seconds. Spectacular Deception Pass Bridge provides a vantage point of the San Juan Islands to the west and furious tidal changes 20 stories below, while the Long Beach Peninsula's candy-striped Cape Disappointment Lighthouse, arising from a steep, granite cliff above crashing surf, has guarded the "Graveyard of the Pacific" for 146 years.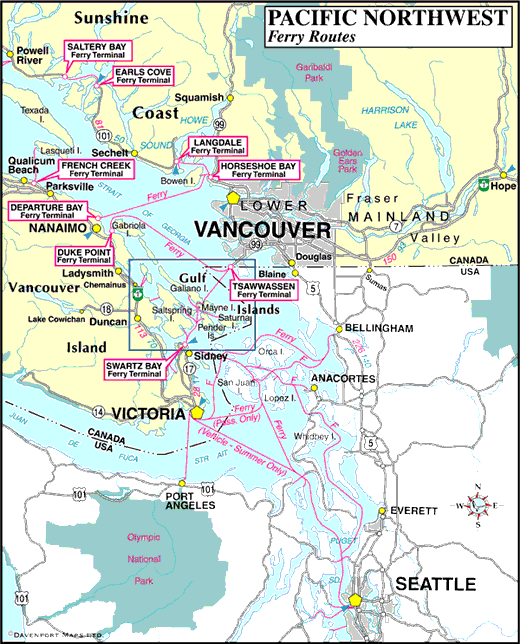 Population: 6 Million
Location: Washington State is one of British Columbia's three southern neighbours in the United States, located south of the 49th parallel – Idaho and Montana being the other two states.
British Columbia is accessible by road from Washington through 10 Canada/USA border crossings. The main border crossings to Vancouver and the Lower Mainland of BC are at Peace Arch (Blaine), Pacific Highway (Blaine), Aldergrove (Lynden), and Abbotsford (Sumas). More information on Border Crossings.
Vancouver Island in British Columbia is also accessable by ferry from four departure points in Washington. Note that BC Ferries does not operate a scheduled service between British Columbia and Washington.
Washington – Port Angeles
Washington – Bellingham
Washington – Anacortes
Washington – Seattle
The spectacular San Juan Islands in Washington State are a popular stop en route to Vancouver Island from Anacortes in Washington. Lopez Island is the first stop on the Washington State Ferry from Anacortes. Orcas Island is a friendly, Victorian port village with restaurants, shops, whale watching, lodging, and bike rentals. On the east side of San Juan Island, Friday Harbor is known for it's natural beauty. Roche Harbor Village is a picturesque little entry port on the northern end of San Juan Island.